---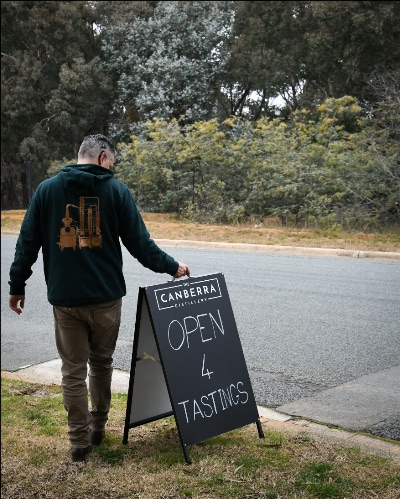 extended opneing hours at the distillery this saturday
Handmade Markets have been postponed but we are open this Saturday.
Come in out of the cold for a warm Mulled Wine with Negroni. Yum!
Taste our range while you're there.
 10am - 4pm
70 Dacre St, Mitchell, ACT.
negroni, anyone?
---
Tim doesn't hesitate to say that he makes Negroni because it's what he likes to drink. You can whip up a basic version at home, but here at the Distillery we take the process a lot more seriously. 
The base gin is made from a Canberra region red wine. Then, where your recipe might have only a few ingredients, we bring together three vermouths and three different amaros, along with our own Dry Gin, for a much more complex flavour. It's a well-tested combination of imported and local ingredients that's the secret to its rich flavour.
The Negroni mixture is then aged in heavily charred oak barrels to allow the flavours to develop but, it's a fine line between ageing to build flavour and leaving it so long that the vermouth begins to oxidise. 
Our expertise allows us to stay on the right side of that divide, bringing you a well-rounded taste where the mixture of spices and botanicals has been softened by the oak.
Being the Negroni-lover around here, Tim says all it needs is ice and a dash of mineral water. "The bubbles create an extra layer in there." Throw in a slice of graperfruit or, if you're feeling fancy, a charred cinnamon stick to echo the warm notes of the drink. Or perhaps put it in your mulled wine... [See below]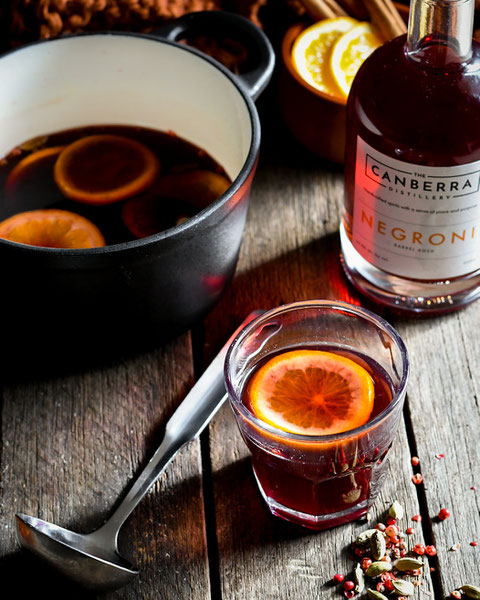 Stand out from the crowd with a personalised Gin this Christmas
---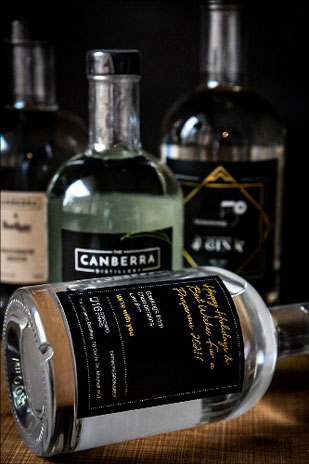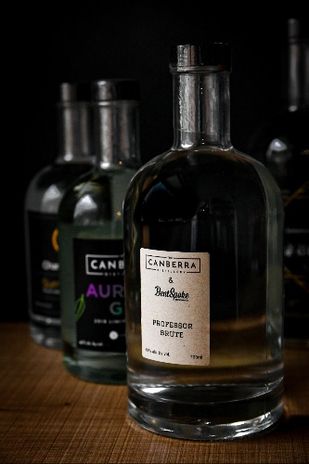 Now is definitely the time to start thinking about Christmas. Let us work with you to develop a sophisticated offering for clients and staff this year.
mulled wine with negroni
---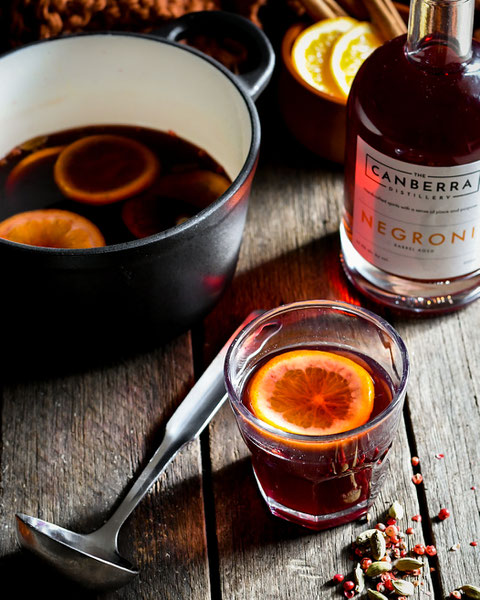 Being accustomed to the cold, Canberrans have their ways of keeping warm. The time-honoured tradition of mulled wine gets an additional injection of spicy heat when it's laced with a little splash of Negroni, right before serving. Any earlier and you risk losing it to the heat of the pot. Add it right at the end to keep those intense citrus notes alive.
---
ingredients (for x6)
1 bottle red wine, something fruity like a merlot works well
90ml The Canberra Distillery Negroni
1 tablespoon brown sugar
2 oranges, one sliced the other juiced
3 cinnamon quills
4 cardamom pods, bruised
1 teaspoon pink peppercorns
---
METHOD
Heat a large, heavy based saucepan on low. Add the cardamom and peppercorns, heating until aromatic.
Add the brown sugar and allow to melt, slowly.
Pour in the wine, orange juice and half the slices, reserving some for garnish. Warm through but do not allow to boil or even simmer. This process is about warming through the ingredients and allowing them all to infuse the wine base.
Decant into glasses, adding a slice of orange and 15ml of Negroni immediately before serving.
Congratulations to laura kate marsh
---
And the winner of our newsletter sign up competition is...
LAURA KATE MARSH
Congratulations!
You will soon receive a Gin Cube in the mail.
WHERE TO FIND TCD IN JuLY
---
Haig Park Markets
Sunday 27 June
9am - 2pm
Christmas in July
Thursday 1stJuly to Sunday 4thJuly
Open 10am - 10pm each day
National Rose Garden
Haig Park Markets
Sunday 11thJuly
9am - 2pm
Haig Park Markets
Sunday 18thJuly 
9am - 2pm
Haig park Winter Wonderland
Sunday 25thJuly
9am - 2pm
Hartley Hall Markets
Sunday 1stAugust 
10am - 3pm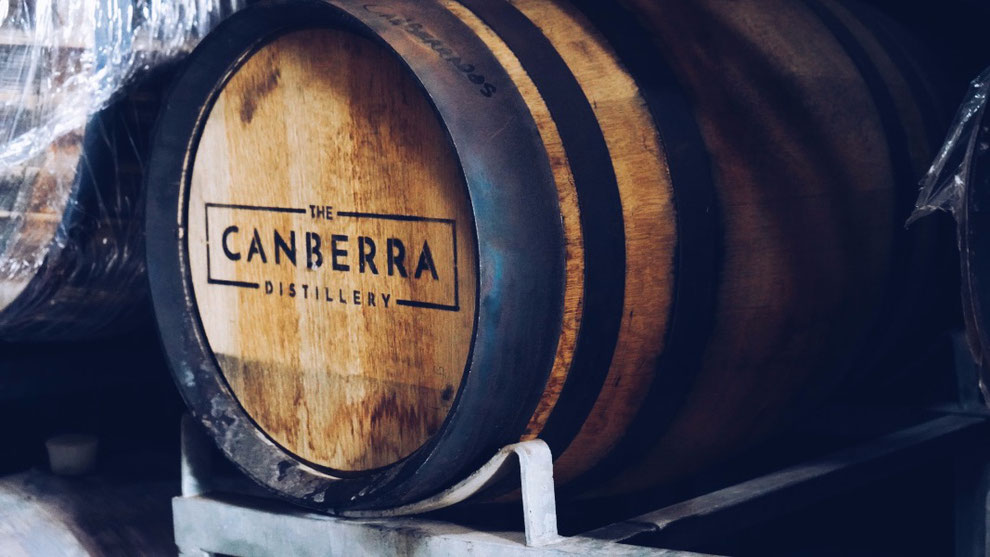 Distillery opening hours
---
Come visit us at 70 Dacre St in Mitchell.
Open MON - FRI 8:30am to 3:00pm
SAT 10:00am to 2:00pm
Other times by appointment.
JOIN OUR COMMUNITY
Subscribe below, and be one of the first to taste our newest spirits and cocktail recipes.